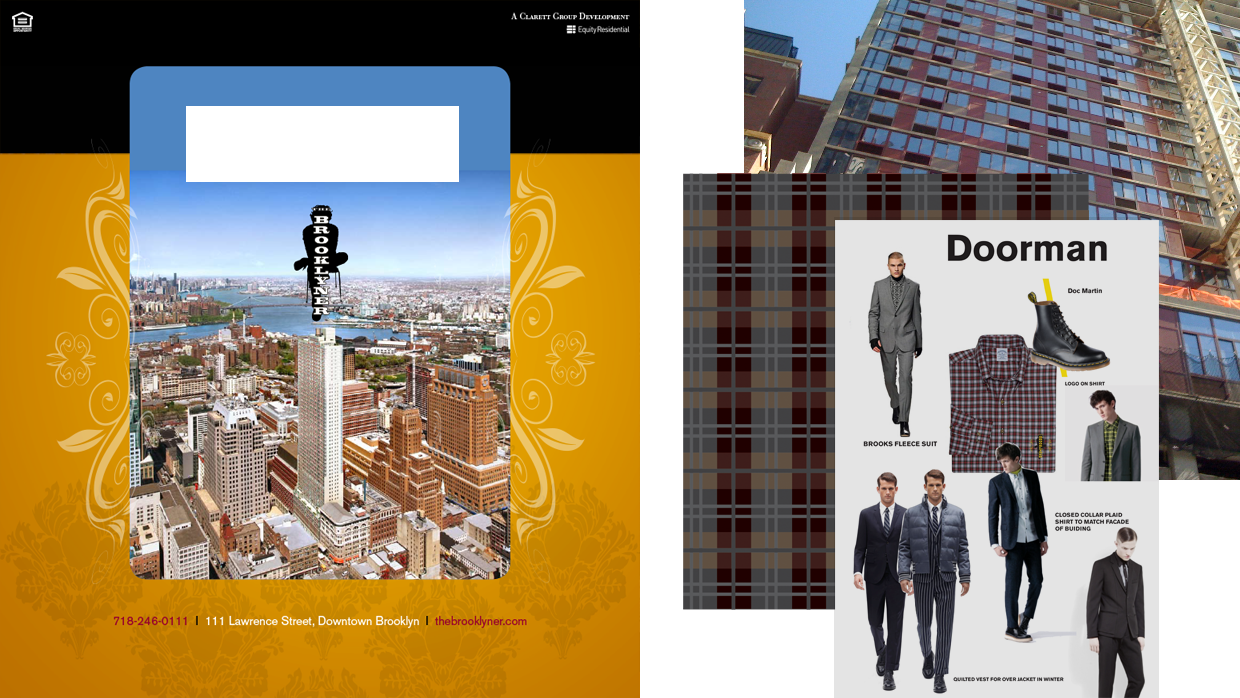 Expect innovative design and a serious dedication to service—from a total rebranding to a simple, efficient website.
My name is Scott Mahr and great design is my passion. I create striking print and digital graphics for companies, large and small seeking that extra bit of customization and creativity. These companies range from real estate to retail, food service to photonic crystals, and everything in between. I run a one-person shop and I'm looking for clients who appreciate dedicated service, who want their product to stand out, and like the fact that I respect their bottom line.
Here is one success story. This brochure was a hit! So was the building! The Brooklyner was a marketing designer's dream—name creation, logo design, all collateral, sales office and model apartment design, signage design to conceptualization of amenity spaces. We even created a custom plaid based on the buildings facade and used it as shirting for the uniforms. The building was an enormous success and helping to redefine the neighborhood.
Real Estate Marketing
I create 360-degree marketing, graphic design and creative direction for residential & commercial real estate developments, resorts, hotels, restaurants and properties of distinction. While I still work on projects in New York and Los Angeles, I have moved to Baltimore and I'm excited to work in my hometown.
Graphics for Every industry
I am a single source for conceptualization, copy and design. I have created award-winning graphics for a variety of clients and industries. Unlike an agency, clients work directly with me, so they get the attention and direct interaction that makes for clear mesWine Magazine and many, many others. sages and quick turn-around.
Website Design Design
A well-designed website is the silent ambassador of your brand. I have designed successful sites for a variety of industrys. My goal is to make my client self-sufficient, so they have easy control of the information they are projecting to the public. In many cases, I can save clients a great deal of money by just customizing a templeted site.
Clients:
current and past
Food & Wine Magazine
Hachette Filipacchi Magazines
Citibank
Cotton Incorporated
Nest Realty
Radisson Hotels
Advanced Photonic Crystals
Old Navy
Councilman Hans Riemer
Panamerican Sports Network
Hines
Williams Jackson Ewing


Post Properties
The Clarett Group
Brookfield Asset Management
The New York Stock Exchange
Daniel Hollander & Associates
Cushman & Wakefield
The Rouse Company

Outward Bound
The Prince of Wales Foundation
Hearst Publications
The Rouse Company
Clarett West Development
Equity Residential